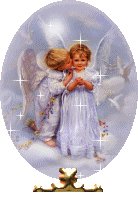 Kiss An Angel Good Morning
I'm the ray of light when the sun starts to shine
And you'll see that that face in the moon is mine.
When you start thinking there's no one to love you,
You can talk to me through the Lord above you.
I'll whisper my words through the leaves on the trees,
And you'll feel my presence in the soft summer breeze.
I'm the hot salty tears that flow when you weep
And the beautiful dreams that come when you sleep.
To all of you I hold so dear
Weep no more, I'll always be here.
For all the cherished memories we share
Just look for me, I'm everywhere
Your life has been a garden spot
Where all your friends may sow;
Where thorns and thistles flourish not,
And flowers alone can glow.
With smiles for sunshine, tears for showers,
Water, watch and guard these flowers.
cc By LightofLove.com 2002

May angels rest beside your door,
May you hear their voices sing.
May you feel their loving care for you,
May you hear their peace bells ring.
May angels always care for you,
And not let you trip and fall,
May they bear you up on angel's wings,
May they keep you standing tall.
May they whisper wisdom in your ear,
May they touch you when you need,
May they remove from you each trace of fear,
May they keep you from feeling greed.
May they fill you with their presence,
May they show you love untold,
May they always stand beside you
And make you ever bold.
May they teach you what you need to know
About life here and here-after.
May they fill you always with their love
And give you the gift of laughter

This Is What I`d Say To You
When I must leave you for a little while
Please do not grieve and shed wild tears
And hug your sorrow to you
through the years.
But start out bravely with a
gallant smile;
And for my sake add in my name
Live on and do all things the same,
Feed not your loneliness on empty days,
But fill each waking hour in useful ways,
Reach out your hand in comfort
and in cheer
And I in turn will comfort you
And hold you near;
And never, never be afraid to die,
For I am waiting for you in the sky