Dustin In The Marine Corp Slideshow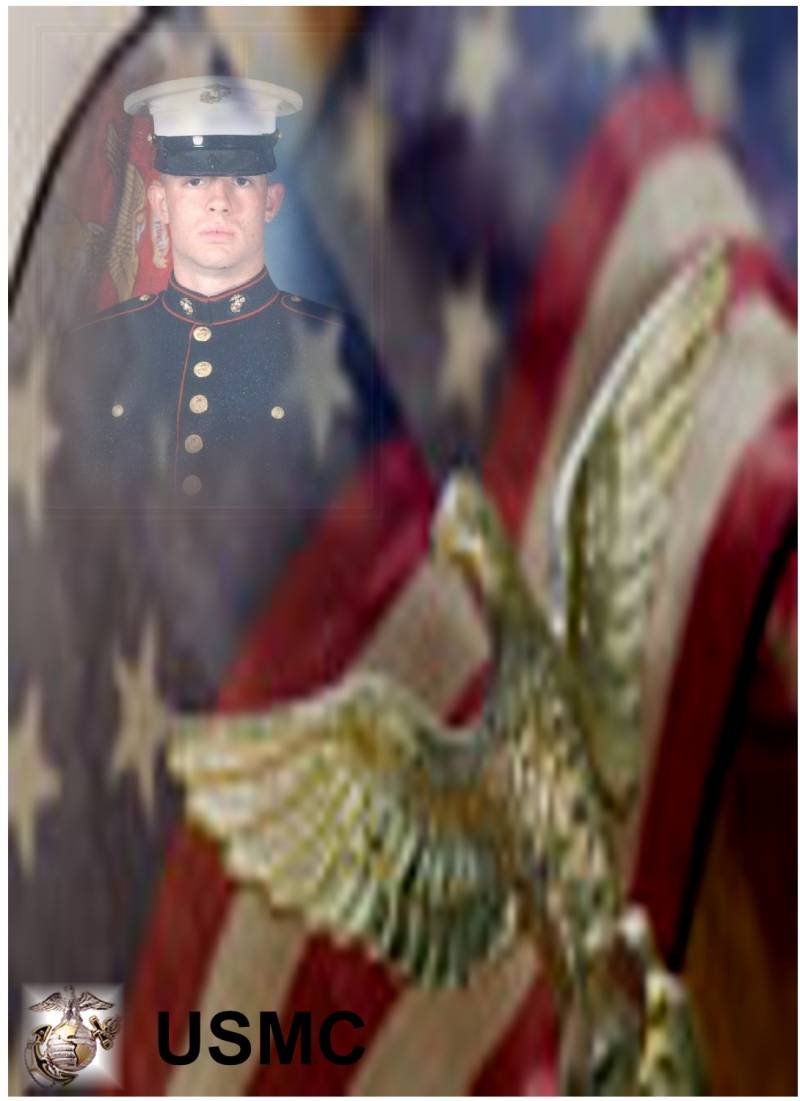 Lance Corporal Dustin Marshall Rawls
UNITED STATES MARINE CORP.
Decorations,Medals,Badges,Citations and Campaign Ribbons Awarded or Authurized.
National Defense Service Medal, Global War on Terrorism Service Medal,Certificate of Appreciation, Letter of Appreciation, Rifle Expert Badge (2)
Military Education
Information Specialist(2002),Marine Combat Training (2002),Tan Belt MMB(2002)
Honorable Discharge
Completed Active Duty Required
Subject to Active Duty Recall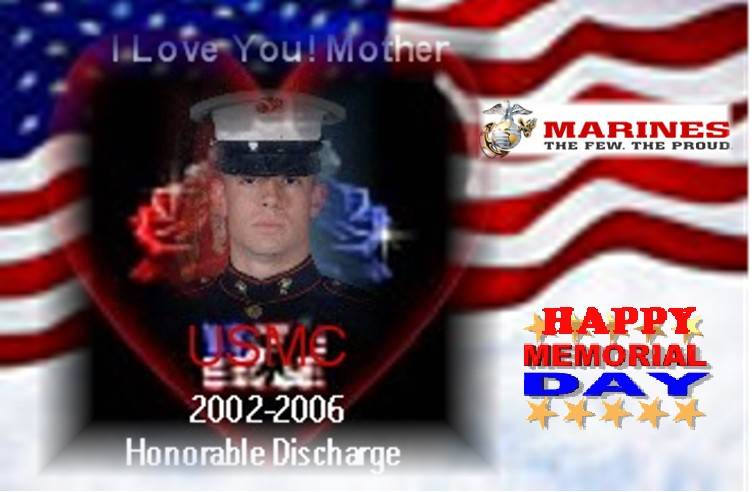 (Memorial Day 2008)
Peace
- Amanda Bradley
Peace will come when people live
In friendship, side by side,
And cherish understanding
More than hatred, greed and pride.
Peace will come when people see
All people as the same,
And no one has to live in fear,
In ignorance, or shame.
Peace will come when people
Who are needy can reach out
For shelter, food, or love,
And no has to do without.
Peace will come when people
Learn to listen and to care
About the rights and dignity
Of people everywhere.
Peace will come when love and trust
And kindness know rebirth,
And on that day all people
Will rejoice in peace on earth.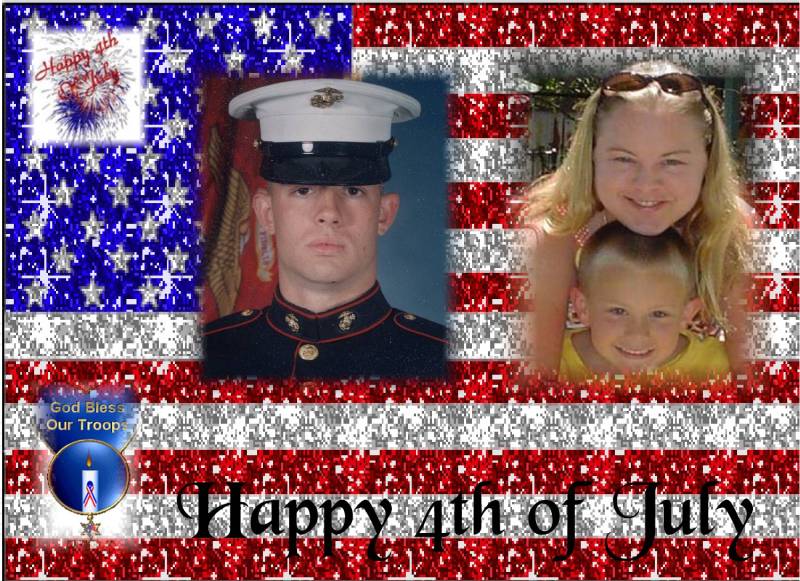 Happy Birthday Letter from Dustin March 4th, 2002 . He was still in San Diego. Ca.( Boot Camp)
He could have been a Dr. with that handwriting. LOL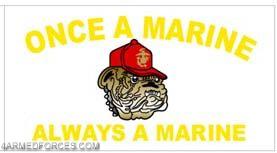 Miss Rawls,
The only photos I have with your son are in my photo album back in the states. I appreciate you contacting me. I never had the chance to speak to you, but he talked of you often. I think out of all of us, Dustin had the strongest/closest relationship with his mother. Some used to call him a mama's boy. I remember the time when he got in trouble for going
to Mexico. He was put on room restriction. His morale was low, and he was constantly told how he was a bad Marine. However, there you were...I remember he got a PS2, a computer and other knick nacks. We were all
like he's supposed to be punished not rewarded for being a young (pardon the language) idiot. I miss him. He was a good friend and definitely lifted our office's spirits. Your son is a hero. Some pass away and never accomplish anything with their lives. I'll remember him for volunteering and giving of himself to his country. I'm sorry I wasn't able to be of much help. Perhaps, you can contact Jay McDaniel, Trent
Lowry, Daniel Thomas, Giovanni Lobello, J. Oliver Johnson and see if they have any photos. I will leave them all a message on Myspace to contact you at the above e-mail address and provide you with any photos they can of them and him.
V/R
Sgt. Kevin Paul
Kevin R. Paul

kevin.paul@aa.mnf-wiraq.usmc.mil
I miss you Dustin. You were like my little brother. I couldn't count how many times I was trying to give out advice to you. You were such a knucklehead. But that was the thing about you...you perservered...and always smiled...never let life get the best of you. You will be missed and were loved.
Chris Taylor
chris@adventusfilms.com
Dustin was just a sweet guy. I loved hanging out with him when we were in the Marines together. He was my next door neighbor in the barracks for about a year before I got out in mid-2004. In all honesty, he never had anything negative to say about anyone and that was the hugest thing I remember about him. I was extremely close with his shop in Yuma. I would constantly find excuses where I worked on the other side of base to go the Public Affairs office for "official business"...but I was really just hanging out. I don't know, they were just way cooler than the scrubs I worked with. I'll miss you buddy.

J. Oliver Johnson

joliverjohnson@yahoo.com
I worked with Dustin for a few years in Yuma. I could go on about how goofy and fun the guy was, but anybody who has ever spent five minutes with him already know that. Dustin was also someone who always stuck to his morals, worked hard and was dedicated to his friends & family and to accomplishing everything he set out to do.
Date: 10/4/2007 12:33:37 PM

Subject: If it was not for Dustin i would have not got this Article.. I will miss you Rawls..
| | |
| --- | --- |
| | |
| | |
Dustin i remember you calling me when you got back to Texas, and how we would try to meet up with each other everytime till this day. But if you wasen't working I was, so we where never able to meet back up. I rememeber when we talked about alot of personal things when we where in Yuma serving our country, and how we where going to do a buisness together when we got back to Houston lol. U will always be my Brother and Friend and i will truly miss you. Your Homie and Brother X.O.Vino aka Flowers. Below is a Article Dustin did on me in 2005.
Yuma Marine blowin' up 'Viscious'ly

MARINE CORPS AIR STATION YUMA, Ariz. (April 20, 2005) --

Making use of personal talents sometimes falls to the wayside for busy Marines, but that's not the case for a few active duty and former Marines who have teamed up to form the rapidly rising rap group,

Vicious

.

Lance Cpl. Ramsey Flowers, Cpl. Cornelius Morgan, Cpl Gatewood Supreme and former Marine Anthony Strachan are all members of

Vicious

, which currently records under

Vicious

Records' chief executive officer, Eros.

The group is on the verge of bursting onto the frontlines of the rap game, said Flowers.

Vicious

has a couple of big name record companies talking about their new album, '

Vicious

Project.'

"Right now, we're talking to BME and Atlantic records. We're trying to talk to as many people as we can so we can get the best deal possible," he said. "This album is kind of a joint venture between us and Michael Sterling of Darkside Entertainment, who made "Lovers and Friends" with Lil Jon, Ludacris and Usher."

Vicious

is what Flowers describes as a combination of rappers from all the hot spots in the South.

"I'm from Houston, Morgan's from Atlanta, and Eros and Strachan are from Miami," he explained. "We were all doing our own thing before we hooked up, but we pretty much formed an all-star team now."

Flowers, a.k.a. X.O. Vino, appeared on two albums before joining the Corps, but said being a Marine has helped him stay dedicated to making it to the top of the rap game.

"I want to have the Marine Corps family's support. I've been a Marine while making my music and it's helped me a lot. It gives me more drive to do things I need to do," he explained.

While Flowers desires the support of his fellow Marines, he said it won't go unreturned.

"I'm talking with the United Service Organization to see about doing something with them. I want to be able to give back and do shows for the military right now, before we blow up," he said. "I don't want people to see us later and think, 'Why didn't they do a show while they were here?'"

Flowers has already done a performance for the air station and a performance with two prolific Houston rappers at 32nd Street Naval Station in San Diego.

"When I joined the Marine Corps, I met a lot more people and got to do more things," he said. "I did the show at 32nd Street in San Diego with Slim Thug and Lil Keke. I also did a show for the Battle of the Mics here in July."

Flowers, who has been rapping since age 13, said he can feel that

Vicious

is about to rise to the top very rapidly and has already been doing some new things to get ready for their album's possible summer release.

"I got flown to Miami by Darkside Entertainment for a photo shoot with Peter Langone, who has done photos for Donald Trump and some other people and famous company's like Pepsi," he explained. "The shoot was to promote our upcoming album, '

Vicious

Project.'"

Flowers said he really hopes for the support of his fellow Marines when the album is released, and that they can expect something very fresh and original.

-30-
---
Date: 9/28/2007 5:11:26 PM

Subject: Dustin

Dear Mrs. Rawls,

I don't know if Dustin ever mentioned me but my name is Michael Nease and he was my best friend while we were in Yuma together. I wouldn't be bothering you right now, but I know you're trying to get hold of Tasha and I have a number for her which I think is active, though I haven't spoken with her in a couple months: XXXXXX. I called her but she didn't answer and I left a message for her to call me. I didn't say what had happened.

No words could console you, but I want to say that Dustin was a great friend to me and that he had more compassion than anyone I've ever known. Thank you for bringing him into this world; it is a better world because of him, and always will be.

Michael Nease
Date: 10/2/2007 12:12:53 PM

Subject: RE: Urgent email ! Desert Warrior

Mrs. Rawls,

Let me start by saying how hard this must be for you. I am so very sorry for your loss. My name is Brian I worked with Dustin for a few years at Yuma and kept in touch with him after he left the Marine Corps. When I heard about the accident, from Dan and Megan Angel, I couldn't believe it, I was shocked. I know you have heard from everyone how great of a man your son was, as Im sure you already knew, so I am not going to say them all again, I am just going to say that some of my best times in Yuma were either with your son or because of him. I am now stationed in New York, with another Marine from Yuma, and we both were wondering when the funeral was going to be. We both want to try and make it down there for this occasion. Please get back when you can, and again, I know everyone has said this but if you need to talk feel free to email me. Thank you, and again I am so sorry. The world is a darker place without your son here.

Lance Cpl. Brian J. Holloran

Public Affairs 1st MCD

Work (516) 228-5650

Mobile (516) 322-8564

"It is foolish and wrong to mourn those men that died, rather we should thank God that such men have lived."

--George Patton
Click on the banner below and it will take you to the Newspaper Dustin and Tasha both worked and also where they met. They both have many articles in the archives you can read. You will see Natasha Green turn into Natasha Rawls. I read this every week when they were stationed in Yuma, Arizona. Please enjoy!

Article Written By Dustin Rawls
31st MEU Seize Airfield on Tinian
Story Number: NNS030506-09
Release Date: 5/6/2003 8:07:00 AM

By Marine Corps Lance Cpl. Dustin M. Rawls, Tandem Thrust '03 Public Affairs
AGAT, Guam (NNS) -- Marines of the 31st Marine Expeditionary Unit (MEU), deployed from USS Essex (LHD 2), and Soldiers of the 25th Army Infantry division (ID) conducted an airfield seizure on the island of Tinian May 1.

The operation was part of exercise Tandem Thrust '03, a U.S. Pacific Command-sponsored biennial exercise designed to test the 7th Fleet staff's ability to effectively plan and execute crisis contingency response operations as a joint task force.

The 25th ID played the enemy on Tinian who were defending the airfield, while Marines from the 31st MEU were dropped in via CH-53 Super Stallion helicopters to head up the assault.

The MEU possess the assets and operational capability to conduct this special operations mission, according to its members.

"It takes all parts of the MEU to conduct this operation," said Marine Staff Sgt. Sau Moana, a weapons platoon sergeant with Company E. "The aviation combat element, ground combat element, command element and the support element all play a significant part."

Moana said there's no right way to take an airfield.

"The way an airfield seizure is carried out depends widely on the planning," Moana said. "Once we hit the beach, the terrain and anything else can dictate what happens. When the real thing happens, the enemy doesn't play by the rules."

In this operation, the Marines swept the northern end of Tinian from east to west and then pushed south, suppressing any opposition forces. After the airfield was secure, a perimeter was set up.

The Marines said preparing for real-world situations is at the crux of any exercise.

Lance Cpl. Aaron Vergasa, a Company E machine gunner, said, "You have to take the training seriously. In a real-world scenario, it's a matter of life or death."

"It's decent training, and you have to take it serious," said Lance Cpl. Brian Telinda, another machine gunner with Company E. "We could be doing the real thing any day."

Moana, who said his main concern in the operation was assuring the welfare of his Marines, added, "Training gets the mission accomplished -- it's that simple."


Spirit of America Article Written by Dustin Rawls
Articles written by Both Dustin and Tasha
Articles Written By Both Dustin and Tasha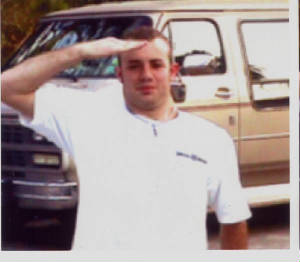 Happy Birthday Marine Corps

November 10th, 2007

The USMC is over 232 years of romping, stomping, hell, death and destruction. The finest fighting machine the world has ever seen. We were born in a bomb crater, our Mother was an M-16, and our Father was the Devil. Each moment that I live is an additional threat upon your life. I am a rough looking, roving soldier of the sea. I am cocky, self-centered, overbearing, and do not know the meaning of fear, for I am fear itself. I am a green amphibious monster, made of blood and guts, who arose from the sea, feasting on anti-Americans throughout the globe. Whenever it may arise, and when my time comes, I will die a glorious death on the battlefield, giving my life for Mom, the Corps, and the American Flag. We stole the eagle from the Air Force, the anchor from the Navy, and the rope from the Army. On the 7th day, while God rested, we over-ran his perimeter and stole the globe, and we've been running the show ever since. We live like soldiers and talk like sailors and slap the Hell out of both of them. Soldier by day, lover by night, drunkard by choice,
MARINE BY GOD!!! OORAH!!!
Marines' Hymn
Quite possibly the world's most recognized military hymn and the oldest official song in the U.S. Military Armed Forces.

From the halls of Montezuma
To the shores of Tripoli,
We fight our country's battles
In the air, on land, and sea.
First to fight for right and freedom,
And to keep our honor clean,
We are proud to claim the title
Of United States Marines.

Our flag's unfurl'd to every breeze
From dawn to setting sun;
We have fought in every clime and place
Where we could take a gun.
In the snow of far-off northern lands
And in sunny tropic scenes,
You will find us always on the job
The United States Marines.

Here's health to you and to our Corps
Which we are proud to serve;
In many a strife we've fought for life
And never lost our nerve.
If the Army and the Navy
Ever look on Heaven's scenes,
They will find the streets are guarded
By United States Marines.